Istanbul Fashion Apparel Conference - 3-4 May 2012
In an era of Fast Fashion, the Istanbul Fashion Apparel Conderence stands at the forefront and pinnacle as a sourcing conference for the best brands in the world. Brands gather here for the Istanbul Fashion Apparel Conference the first week of May each year. It is a nice conference that combines B2B meetings between producers and the Industry, along with speakers and seminars addressing current topics and a fashion and design exhibition. Buying groups in attendence represent several billion dollars of buying power and so it also is a great place to network. It is organized by the Turkish Clothing Manufacturers Association.
Representative of buyers at this conference, 12 major brands with buying offices in Turkey are expected to purchase about 5 billion dollars from Turkey in 2012. President Cem Negrin said that purchases from Turkey were expected to increase in the second half of 2012. It was also disclosed that Zara alone had bought 1 billion dollars in goods and Li & Fung added to that with purchases of 600 million dollars. After Japan's largest retailing chain Aeon investigated the Aegean region, it started to purchase textiles from Turkey, placing its first order with Yeşim Tekstil. Japan has been particularly interested in organic products and focused largely on casualwear.
The 2011 Istanbul Fashion Apparel Conference was held last May 5th & 6th. It was a special year for the conference as it was the 35th year since founding of the Turkish Clothing Manufacturers Association (TGSD). To celebrate, Prime Minister Erdoğan honored the association by attending. Here he is--in the picture above--with Cem Negrin, Turkish Clothing Manufacturers Assocaiton Chairman of the Board.

Highlights of the 2011 conference were: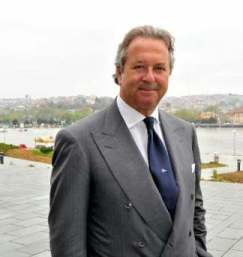 Pier Luigi Loro Piana
You know very well how to sew a suit in a way many countries are not capable of. But you can advance this success to an even higher level."
Pier Luigi Loro Piana, CEO of Loro Piana, presentation in which he called on the Turkish ready-made garment industry to focus on high added-value products. With investments in quality, innovation, productivity, services, and value-creation, success would come automatically. "I have visited many companies in Turkey", he said, "and I have seen experience and know-how. You know very well how to sew a suit in a way many countries are not capable of. But you can advance this success to an even higher level."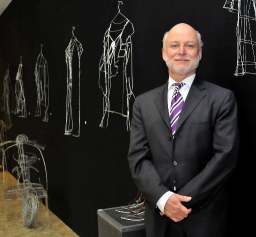 Don Baum
Don Baum, Polo Ralph Lauren Senior Vice President of Global Manufacturing, "If you want to develop a country's industries, you first have to sell your name well." In his words, Turkey has turned the crisis experienced in the world into an opportunity and has emerged beyond the status of a Third World country. He criticized, however, the loss of three quarters of business volume in the country. "This situation must be questioned both with respect to its economic and its political dimensions", he said. On a personal note, he also expressed the deep impression a place like Istanbul had made on him and that his experience has been one of trust with his Turkish partners.
A significant session topic "The Ecosystem of Fashion" held in cooperation with Elle magazine provided a time to examine the "story" behind a product and how that message is communicated: The importance of defining and communicating to the customer the value of every single product or brand, the establishment of new fashion ecosystems through communication channels and at new communication frequencies that change in line with the transformational speed in retailing.
Also the emerging role Social Media such as Twitter and Facebook play in communicating the message and image as well as the role fashion journals play in "creating" images in the fashion ecosystem. The challenge today is a breakdown in the retailing sector's distinction of variety and price in traditional categories of "luxury fashion," "mid-segment" and "fast fashion."
Previous Conferences
2010 Bridges of Fashion Conference